The economic expansion that began in 2009 is the longest in American history.  Bull markets cannot run forever and at some point in the future (potentially the near future) the economy will need to pause to take a breather. 
Like many of the clients I speak with, you may be wondering how the housing market will hold up if the economy goes into a recession.
While it is impossible to predict the future with complete certainty, we can study the past and make some educated guesses.  Looking back over the past six recessions going back to 1973, we can see that housing prices actually went UP during five of the six recessions. 
2008 – 2010 was unique in that the recession was at least partially triggered by the real estate and mortgage meltdown.  In summary, loose lending standards led to rampant speculation and fake demand for housing by speculators who could not debt service the mortgages they signed for.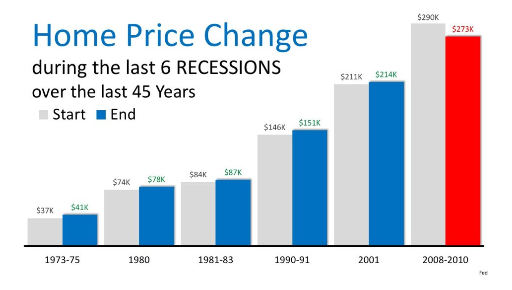 Loose lending standards are NOT the case today.  As you can see below, lending standards measured by the Mortgage Credit Availability Index, got out of control between 2004 and 2007.  This was a period when stated income, stated assets, and stated employment were typical.  Borrowers rarely had to document their ability to repay the mortgages they were signing for.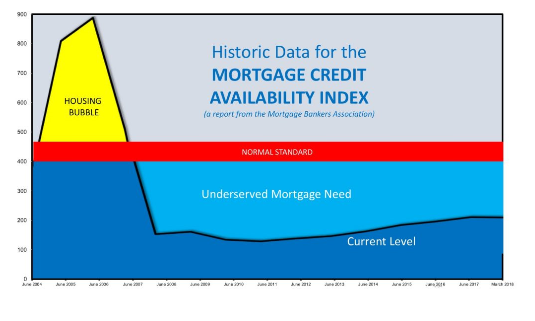 As you can see today, lending standards remain tight and well below the normal standard which a 400 to 450 reading on the index. 
What has been the results of the tighter lending standards?  As you might have guessed, foreclosures are near record lows and approximately 62% less than they were in 2003 before lending standards got out of control.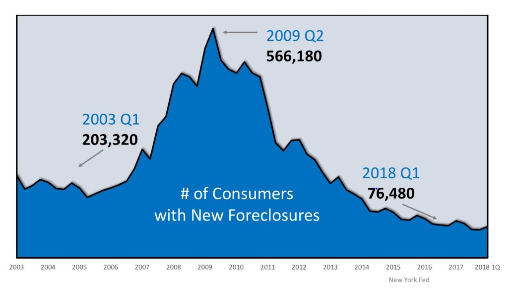 Today's mortgage borrowers have to thoroughly document income, assets, and credit to qualify for a loan.  Thus the housing market is on a firm foundation that will likely withstand the next economic recession.
Many of our clients have also asked about renovation or existing home construction loans as inventory remains very tight and finding the perfect home can be tough.  If you are interested in buying a new home and doing a complete makeover or renovating your existing home, please drop me a line as I would be happy to give you the details about the existing home construction loan program.   Please visit https://existinghomeconstructionloans.com/
This entry was posted in
Attorney
,
CPA
,
CRNAs
,
Dentists
,
Doctors of Physical Therapy
,
educators
,
Existing Home Construction
,
Physician Loan
,
Registered Nurse
,
Student Loans
,
Veterinarians
.
Copyright©2017 Fairway Independent Mortgage Corporation. NMLS#2289. 4801 S. Biltmore Lane, Madison, WI 53718, 1-877-699-0353. All rights reserved. This is not an offer to enter into an agreement. Not all customers will qualify. Information, rates, and programs are subject to change without prior notice. All products are subject to credit and property approval. Not all products are available in all states or for all dollar amounts. Other restrictions and limitations may apply. Fairway is not affiliated with any government agencies. Fairway is required to disclose the following license information. Alaska Mortgage Lender License No. AK2289; Arizona Mortgage Banker License No. 0904162; CA: Licensed by the Department of Business Oversight under the Consumer Finance Lenders Law; Loans made or arranged pursuant to a California Finance Lenders Law License #262571; Illinois Residential Mortgage Licensee No. MB. 0005475; Kansas Licensed Mortgage Company. KS License #MC.0001375; MA Mortgage Broker and Lender License #MC2289"; Minnesota: MN-MO- MN-MO-20183136. This is not an offer to enter into an agreement. Any such offer may only be made in accordance with the requirements of Minn. Stat. Section 47.206 (3) and (4); Mississippi Licensed Mortgage Company; Licensed by the New Hampshire Banking Department Licensed by the NJ Department of Banking and Insurance; Licensed Mortgage Banker-NYS Department of Financial Services; OH MBA License #2289; Oregon Mortgage Lender License ML-3791; Rhode Island Licensed Broker & Lender; VA: NMLS ID # 2289; Washington Consumer Loan Company License No. CL-2289.